In our last post, we outlined all of the money-saving features of a hosted VoIP system. Now let's explore the functions and features supporting both you and your business.
Hosted VoIP is one of the fastest growing technologies in the industry today. If you're ready to implement a communication system that will dramatically improve your operations overnight, this is for you.
6. Tailor Your Experience
Hosted VoIP solutions offer an array of excellent features for your business. For added efficiency, you can quickly and easily activate only the ones you want. This allows you to pick the best features for your company while streamlining your business. Some examples are:
HD voice is the solid foundation of hosted VoIP. You'll have the clearest possible calls, no matter where they go.
Voicemails can be automatically forwarded to your e-mail account for access from anywhere.
With the hosted VoIP portal, you can filter calls through your cell phone when you're out of the office. This means both incoming and outgoing calls will appear as though they were from your desk.
Your Customer Relationship Management System and Outlook can both be easily integrated into your host VoIP system.
This highly flexible, powerful system allows you to create the business experience you've always wanted.
7. Remote Upgrades
New features never require hardware updates on-site with hosted VoIP, so you don't have to worry about overhauls at the office every time a new version is released. Software changes happen automatically and in the background. Since your service is outsourced with hosted VoIP, this is one less thing on your plate.
As new features are rolled-out, you'll be looped into their benefits. This allows for quick and easy assimilation into your team's workflow.
8. Mobility
High-connectivity is an absolute must in today's business world. Traditional phone lines often mean you're tied to the desk. Not so with hosted VoIP solutions, which deliver the best platform to keep you connected on the go. From your office to an off-site conference to the airport, you can access all of your communications as though you are still in the office. This means less time spent waiting and more time spent doing.
9. The Power of Eye Contact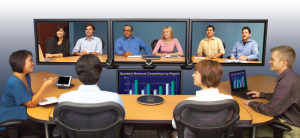 Hosted VoIP has clean, easy to use video call features. In this technology-driven age, there's no reason to sacrifice that personal touch for convenience. Video calls can be made with just as much ease as a voice call. The result is more effective meetings and an improved ability to communicate long distance. Hosted VoIP doesn't underestimate the power of eye contact in business, and neither should you.
10. Putting the Mission First
Technology should be implemented to support your business strategy, not distract from it. Bells and whistles can be fun but difficult to use. A new system may sound great, but your IT department loses a lot of time to it. Hosted VoIP solutions give your enterprise the benefits of technology without the distractions. This allows you to remain focused on the mission at hand while seamless communications support you.
Hosted VoIP delivers nothing but upsides to your business strategy. By providing the technology to facilitate fast and effective communication, this solution immediately impacts daily business operations. With the utmost in support and upgrades, you never have to stress about your phone system again. At affordable rates, your CFO will gladly back the transition to hosted VoIP.
CLICK HERE FOR PART 1/2