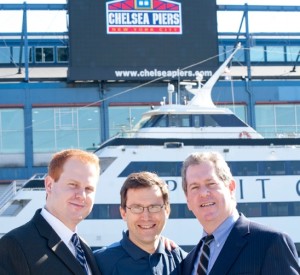 Jerry Pullman (left) and Robert Pullman (right), both of Tele-Dynamics, worked with Stuart Sheinbaum of Chelsea Piers to create a Toshiba business telephone system that provided an immediate return on investment and $26,000 in annual savings.

Chelsea Piers saved thousands by being able to reuse the optical fiber backbone, digital telephones and interface units from the old system. It saved another $50,000 a year by eliminating costly Centrex lines from the phone company. These advantages provided an immediate return on investment on the new phone system, plus $26,000 in yearly savings. An impressive score.
The new Toshiba Strata CIX system improved internal and external communications with four-digit dialing, intercom and paging services for all locations, plus automated routing of incoming calls, so no call ever goes unanswered.
Furthermore, the complex's IT support specialist can now remotely administer the entire phone system for all locations, making moves, adds and programming changes from a networked laptop or PC. There's no need to run around the courts and playing fields — except for fun or fitness, of course.